Boost Your Small Business with Interlinc Communications' VOIP PBX: Elevate Communication and Cut Costs
Are you a small business owner seeking to gain a competitive edge in today's fast-paced digital landscape? Look no further than Interlinc Communications for cutting-edge VoIP PBX solutions. In this blog post, we'll explore the transformative benefits of VoIP technology and how Interlinc Communications can supercharge your business communications.
Cost Savings That Impact Your Bottom Line
Interlinc Communications VoIP PBX systems empower you to slash your communication expenses. Say goodbye to hefty long-distance charges and cumbersome hardware investments. With VoIP, you'll enjoy affordable call rates and minimal on-site equipment costs. Our scalable solutions allow you to pay only for what you need, making it easy to adapt as your business grows.
Elevate Your Communication with Advanced VOIP IP PBX Solutions
Our VoIP PBX systems offer a treasure trove of features designed to enhance your business communication:
Advanced Call Management: Impress your customers with call forwarding, voicemail-to-email, and automated attendants.
Unified Communications: Bring voice, video, and messaging under one roof for seamless collaboration and productivity.
Mobile Integration: Give your team the freedom to work from anywhere with mobile device compatibility.
Unleash Productivity and Efficiency
With an Interlinc Communications VoIP PBX system, its not just about calls; they're about boosting productivity:
Voicemail Transcription: No more sifting through voicemails – our systems transcribe them into emails, making message management a breeze.
Call Analytics: Harness the power of data to optimize your operations and improve customer service.
Keep Your Business Running, No Matter What
With our VoIP systems, business continuity is a top priority:
Redundancy: Enjoy uninterrupted communication with our failover options during outages.
Disaster Recovery: Safeguard your data with digital storage for quick and efficient recovery.
Seamlessly Integrate with Your Favorite Tools
Interlinc Communications' VoIP solutions integrate smoothly with your essential software:
CRM Integration: Streamline customer interactions with easy integration into your CRM software.
Collaboration Tools: Boost teamwork with seamless connections to project management and collaboration tools.
An Environmental Responsibility VOIP PBX
Our VoIP systems contribute to a greener planet:
Reduced Hardware: Cut down on electronic waste and energy consumption with our hardware-efficient solutions.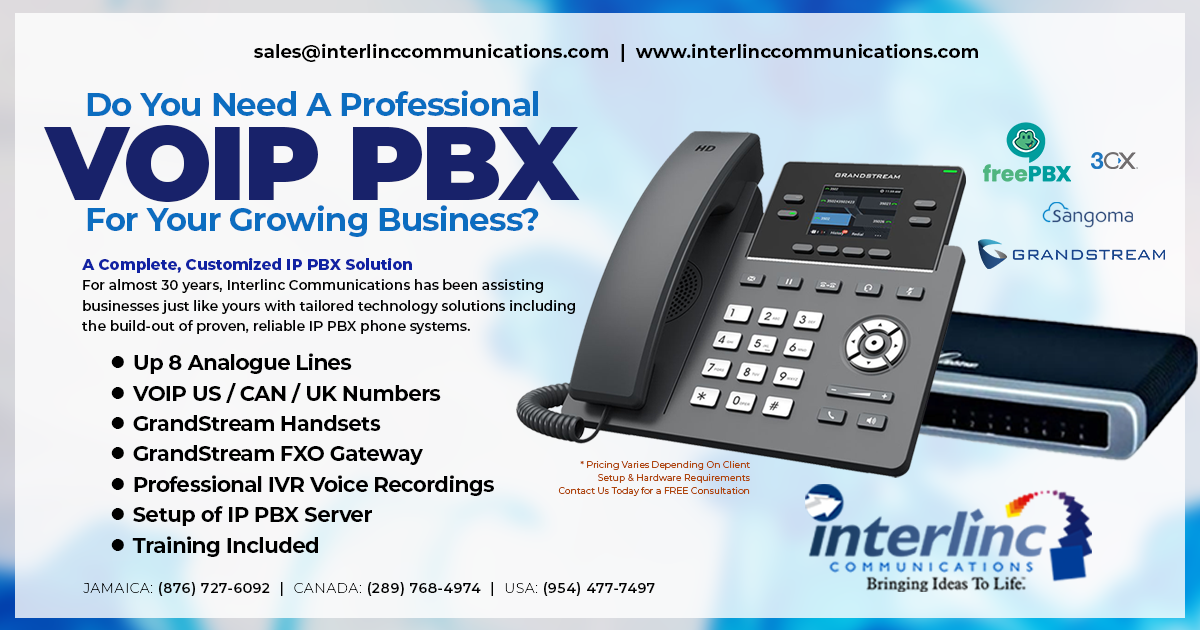 Expand Globally with Local Presence
A VOIP PBX from Interlinc Communications enables you to reach a global audience:
International Presence: Establish local phone numbers in multiple locations, giving your business a worldwide reach.
Elevate Your Image and Thrive with our VOIP PBX
A professional image is essential in today's business world, and our VoIP technology can help level the playing field. Show your customers you're serious about their needs with Interlinc Communications' state-of-the-art VoIP PBX systems.
In summary, our VoIP PBX solutions offer a multitude of benefits for small businesses, from cost savings and advanced features to increased productivity and environmental responsibility. Elevate your business communication with us and take the first step towards a more efficient and competitive future. Contact us today to explore how our VoIP PBX solutions can transform your business!
Ready to get started?
More from the Blog
Explore Our Products and Services